"I had tuna fish for lunch," I told my husband.
"That's redundant!" Scott exclaimed. "Tuna is a fish. You don't have to say 'tuna fish'." Scott and I have both written copy at various points in our careers, so we have actual conversations about grammar and punctuation. In fact, Scott likes to flaunt the term "redundundant"—the extra syllable his own coinage and, we believe, self-explanatory.
"But everybody says 'tuna fish,'" I countered. "You hear it all the time."
I mentioned our discussion to my friend Joyce, who further clouded the issue. "If it comes in a can, it's tuna fish," she said with certainty. "But if you're eating it fresh, it's just tuna. You wouldn't go to a restaurant and order the wood-grilled ahi tuna fish."
"Huh? It's the same animal," I said, thinking that Joyce's logic reminded me of my mother's when she served bacon and ham, but banned pork chops from our home. If it had "pork" in its name, you see, it was treyf. But that's a whole 'nother story.
The conversation made me curious about common, but redundant, expressions, so I Googled redundant phrases and learned a new word. Those overloaded sayings are called pleonasms, derived from the Greek "to be excessive." There are several websites devoted to collecting pleonasms. They all list terms like actual experience, basic fundamentals, close proximity, and free gift, but most omit a couple of expressions that particularly bug me.
One phrase I encounter frequently is safe haven. It's even the title of a best-selling book by Nicholas Sparks and a movie based on the book. Merriam-Webster defines haven as a place where you are protected from danger, trouble, etc.  How could that place be anything but safe? Pleonasm!
But the one that really gets me is cheese quesadilla. Queso is the Spanish word for cheese. So if it's a quesadilla, it's made with cheese. If it doesn't include cheese, it's a tortilla panini or something like that, but it's not a quesadilla. When you order that item, you should be asking for a plain quesadilla, not a cheese quesadilla.
"One … cheese … quesadilla," the server—oblivious to pleonasms—will undoubtedly note as she scribbles your order.
Of course, there's a way to keep that from happening. You could always order a tuna fish quesadilla.
What redundant expressions bother you?  Let's share!  Put 'em in the comments, please.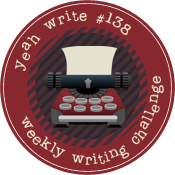 Hooking up with the challenge grid on yeah write #138. Click the badge to see the week's best blogs and vote for your favorites.