Note:  I've changed the names of my family members in the piece that follows.
I feel like someone who missed a plane, only to learn that it crashed.
Armed with a semi-automatic handgun and a knife, Shawn Walter Bair fatally shot two women Wednesday night in a supermarket in Elkhart, Indiana. He was pointing his weapon at the manager when Elkhart police arrived on the scene. Bair aimed at the officers; they shot and killed him. Bair reportedly had a history of drug and legal problems, and his Facebook page indicated that he was fascinated by serial killers.
While incidents like this still make the national news, they're increasingly common these days. What makes this one stand out for me and my family is that Martin's Super Market in Cobblestone Crossing was my cousin Elaine's neighborhood grocery until she moved out of the state and into assisted living in 2012. Elaine's memory was failing, but she always recalled the way to Martin's, and she shopped there regularly. The Cobblestone Crossing shopping center was also home to a couple of restaurants where Elaine met her friends for lunch.
I know that Martin's store myself. I used to drive up to see my cousins when Elaine's son Michael came to visit. Mike likes to start his morning with a banana. Elaine doesn't care for bananas, and she always forgot to buy them. It became a ritual to stop by Martin's on my first day in Elkhart and grab a bunch of the yellow fruit for Mike. And when our family cleaned out Elaine's house and prepared it for sale, Martin's is where we picked up extra packing boxes and other supplies.
This Martin's is a good-sized grocery with a nice deli section. It's on one of the main drags, out on the east side of this small Northern Indiana town. It serves single-family homes and apartment complexes, most fairly new. The neighborhood seems quiet, and I think you'd call it normal. It's certainly not a "bad neighborhood" that people would warn you to stay away from. This kind of thing can happen anywhere these days. You just never know.
Area residents, including Elaine's daughter Rachel, used Facebook to share their shock and disbelief. Commenters praised the Elkhart police for their quick response. Many sent prayers to the victims' families. Some excoriated the shooter, but others asked why his obvious cries for help were ignored. One of Rachel's friends knew one of the victims. That's how close this tragedy comes.
I'm glad Elaine no longer lives in Elkhart. I don't think she follows the media anymore, and I doubt her children will relay this upsetting news. I can imagine her being in the store when the shootings happened–even though she was unlikely to shop at 10 p.m.–and I don't want her to picture that herself. In her eighties, heavyset, and crippled by arthritis, she would not have escaped the gunman if he'd come toward her.
I guess we've all heard the quotation, "Live each day as if it were to be your last." Sources attribute it to Og Mandino, an American essayist and psychologist who died in 1996, but I suspect someone else said it much earlier.
I see the truth of it this week. You just never know.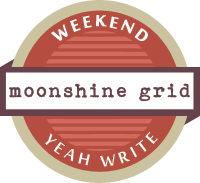 Hooking up with the Yeah Write weekend Moonshine Grid. Click the badge and read all the great blogs!