Twenty-five years ago, on September 16, 1988, Tom Browning of the Cincinnati Reds pitched a perfect game. And in doing so, saved my life.
My Uncle Dave, my mother's brother, had died a couple of days earlier in South Bend, Indiana. His funeral was scheduled for the 16th. I decided to drive alone from my home in Cincinnati to South Bend for the ceremony and, because of family and work obligations, to return the same day.
Getting up at dawn, I was nervous. I hadn't visited South Bend since I was a child, and the route from Cincinnati was unfamiliar. I fortified myself with diet cola, squinted at my map, and arrived on time at the apartment Dave had shared with his second wife, Carmen. Along with Carmen and my uncle Aaron, there were my cousins—Dave's daughter, her husband, and her two adult children—but I barely knew them. I hadn't seen them since my wedding almost twenty years earlier. Fortunately my cousin's husband sensed my anxiety and made a special effort to bring me into the group.
Somehow I got through the service and the trip to the cemetery. I don't remember precisely, but as a Jewish family, we surely went out to eat afterwards. You can't have a Jewish occasion without a meal.
So it was already evening when I began my four-and-a-half hour return trip. Given the long day and mix of emotions, I was exhausted. As I rounded Indianapolis at 10:00, with two hours to go, I was fading.  No amount of cola would keep me alert. I surfed the radio dial, searching for something to spark my waning consciousness. When I found 700 WLW, the Reds' game against the LA Dodgers was just beginning. It had been delayed almost three hours because of rain. It was still drizzling in Cincinnati, but at least I would not be driving into a storm.
I've never been into baseball the way I'm into football, but I appreciate the Reds. They have the same kind of rich tradition my Green Bay Packers do. Dating back to the 1869 Red Stockings, they are major league baseball's oldest team. My son loved baseball as a child, so we had spent many pleasant hours at Riverfront Stadium. I was fond of Browning—not, I confess, because he was the ace of the staff, but because he was an extremely economical pitcher. A Browning game squeezed all the action into two hours instead of the typical three. I counted on Browning to bring me home.
I came awake as the miles ticked off. Shelbyville, Indiana. Stifling a yawn. Greensburg. Wow, a real pitchers' duel. Batesville. OMG, he's got a perfect game going. West Harrison. I hope no one says something and jinxes him!
There was no way I could fall asleep as I listened to the fast-moving game. Dodgers' pitcher Tim Belcher took a no-hitter into the sixth inning before giving up three hits. By the ninth, Reds' announcers Marty Brennaman and Joe Nuxhall weren't worried about a jinx. Excitement rang in their voices as they described Browning's historic performance for the listening audience.
I pulled into my garage, ran into the house, and switched on the kitchen radio in time to hear Marty say, "Swung on and missed. And Tom Browning has pitched a perfect game. … And he is being mobbed by his teammates …"
Browning didn't let anyone else come home that night, but he got me home. Safe.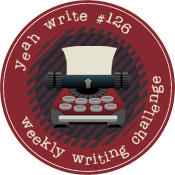 Hooking up with the challenge grid on yeah write #126. Click the link and read all the great blogs!