Eddie Lacy, the Green Bay Packers' second-round draft choice, has a bigger burden than making the team.
In an interview with Tyler Dunne of the Milwaukee Journal Sentinel, Lacy revealed that he has been haunted ever since 2005 when Hurricane Katrina came through Gretna, Louisiana, and rendered him homeless. National championships at Alabama, being drafted by one of the NFL's premier teams—as Dunne puts it, for Lacy these triumphs are "Advil fixes to an illness with no cure."
I sent the J-S link to my BFF, Pam. She moved from Wisconsin to Louisiana some forty years ago, and like Lacy, she survived Katrina. I thought she'd like to know they had something in common besides her being a Packer fan and his being a Packer.
Pam's heart went out to Lacy."You can't describe how it was and is," she e-mailed back. "We lost nine acres of trees and only two scraped our house. All we had to do was add a roof. God bless him, because I can only feel blessed because it could have been so much worse for us. His family lost it all."
Pam said she'd love to sit down with Lacy and just let him talk about his experience. I told her that when we make our annual trip to Green Bay, I'll keep an eye out for a signing or other event where they might meet. After that, it's up to him. She can't be the first to make that offer, not even the first he will meet in Wisconsin. And he told Dunne he doesn't know how to vent. That's part of the reason he hasn't gotten over his loss.
"Get over it?" Pam wrote. "New Yorkers know how it feels after Sandy. They no longer say, 'get over it.' You see it every day. It will be eight years on August 29. What is left of the woods is coming back but the park-like atmosphere is gone. Trees are still down in the woods, ditches are not re-dug, some structures still falling apart, etc."
Pam was driven from her home for a month by Katrina. She returned just in time to pack for our yearly trip. Enough hurricane victims had found their way to Wisconsin that stores and restaurants along our route were offering Katrina discounts. Everywhere we went, Pam asked for her coupon. I made fun of her because she hadn't lost her home or job, she was a well-off tourist rather than a displaced person, and here she was, asking for charity.
Pammy, forgive me. I did you an injustice.  I didn't realize that you actually had a form of post-traumatic stress disorder. Or that you might still be suffering from it, although not to the same degree as Eddie Lacy.
I've been lucky. I've never experienced a natural disaster like Katrina or Sandy. We had a "dry hurricane" here in Cincinnati back in 2008, when the remnants of Hurricane Ike came through and brought gale-force winds.  Some people lost electricity for a week, but ours was out for only thirty hours.  I had to throw out some perishables, but once everyone got their power restored, things were pretty much back to normal.
I hope I never know what it is to lose everything–or even nine acres of trees. And I hope my friend and my new Packer hero find peace.
To read the original Tyler Dunne piece on Eddie Lacy, click here. http://www.jsonline.com/sports/packers/packers-rookie-running-back-lacy-has-burden-to-carry-b9951355z1-215404221.html
.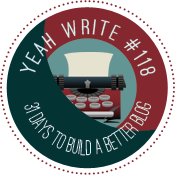 Linking up with the challenge grid on yeahwrite #118. Click on the badge and read some of the best blogs of the week.