I didn't want it to be over. They almost had to throw me out when it ended. Last Sunday I attended the Human Race Theatre's production of Lombardi at the Loft Theatre in Dayton.
The play was special for me because I grew up in Green Bay, Wisconsin, during the years when Vince Lombardi coached the Packers to five NFL championships. I can't call myself a friend of Lombardi, his wife Marie, or his players Paul Hornung, Jim Taylor, and Dave Robinson. (Not even of his daughter, Susan, who's my age.) But I read about them in the newspaper, watched them on TV, and frequently ran into them around our small city. Hornung was the object of my first teenage crush. I used to spot his big Cadillac parked downtown and wait near it, hoping for a glimpse of Paul.
It was weird to see people I knew portrayed on stage. I realized Edward Furs playing Lombardi and Brandon Dahlquist as Hornung wouldn't look exactly like their real-life counterparts. By the end of the show, they had won me over. Furs, especially, had adopted Lombardi's body language. Standing in his trench coat, arms behind his back and chest thrown out, he could have been mistaken for Vince at a distance.
I couldn't judge the dramatic quality of Eric Simonson's script. The material—based on Lombardi's 1965 season and his sometimes stormy partnership with Marie—was too familiar. I knew the legends and quotations by heart. I mouthed lines along with the actors, chuckling in fond remembrance.
"Winning isn't everything, but the will to win is everything."
"The most important things in life are God, family, and the Green Bay Packers (not necessarily in that order)."
To top it off, there was Jack Giambrone's collection. Giambrone, assistant commissioner of the Ohio Community College Athletic Conference, was inspired by Lombardi during his own years of coaching college football. He has collected Lombardi memorabilia for thirty years and displayed 175 pieces in the theatre lobby. I had brought souvenirs of my own—a program from the 1961 NFL championship game and a newspaper section commemorating the Packers' 37-0 victory in that game. I was proud to share them with Jack.
The audience was a strange mix of fans who came to pay homage to Vince and theatre subscribers who were first learning about him. And then there was Mr. Izzo of Dayton (I didn't catch his first name), who introduced himself as Vince Lombardi's cousin. We got a laugh when he told Furs after the show, "You got the shouting part right."
I was home, and I wanted to stay there, in Green Bay in 1965.
Later, I pondered why Vince Lombardi is still of interest more than forty years after his death. He was a football coach, after all, not a world leader. And yet we have Lombardi, which opened on Broadway in 2010, and two books by his players released just last fall—Lombardi's Left Side, by Herb Adderley and Dave Robinson with Royce Boyles, and Closing the Gap, by Willie Davis with Jim Martyka and Andrea Erickson Davis. Adderley has said publicly that he thinks about Lombardi every day. Closing the Gap is Davis's autobiography, but it also presents a list of precepts for successful living—many undoubtedly learned from Vince.
Lombardi transcended football. In his last years, he addressed corporate executives, telling them how to run their businesses the way he ran his team. He was the consummate motivator, and he had the gift of knowing how to inspire different people with different techniques. He represents discipline, dedication, and excellence. In these troubled times, when shoddy workmanship, self-interest, and "good enough" performance are so often the norm, we need Vince Lombardi in our lives.
I was lucky to grow up with his great, shining example.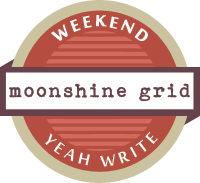 Hooking up with the Moonshine Grid on Yeah Write. Follow the link to see some great blogs!