It's been two weeks since the incident, but I'm still getting an occasional funny look at my health club.
On Tuesdays I often attend a water aerobics class, but I missed that one to wait at home for a repairman. Once he'd completed his job, I still needed to work out, so I went to the club. As I approached the entrance, I met my classmate Connie, coming out. She looked at me, did a double take, and gasped.
I looked down at myself.  Was I having a wardrobe malfunction?  But, no, Connie quickly explained. Someone had said in class that they'd heard one of our members, Linda, had passed away. No one knew this Linda's last name, and Connie had thought of me. Now that she could see I was alive, she was concerned about a close friend of hers, also named Linda and also absent from class. She was heading to the other Linda's home to check on her.
Now, Linda happens to be a very popular name for women born in the 1940s. One of my BFFs, three months younger than I am, is a Linda. President Lyndon Johnson had a daughter named Lynda, born in 1944. There are actually Linda/Lynda conventions held around the United States, and I bet most of the participants were born in the '40s or early '50s. I've read that 1948 was the peak year for Lindas. Arriving in October '47, I just missed it.
It's logical that my water aerobics class, which is geared to women of a certain age, could include several Lindas. Frankly, we don't all know each other's names. Water aerobics isn't particularly conducive to conversation, and besides, people our age don't remember things as well as they used to. Then there's the bathing suit factor. For example, most of us know that the lady in the red suit is Carol. If Carol shows up in a blue suit, we may not recognize her. But enough people knew my name to raise concern about me.
It turned out that Connie's friend Linda isn't the late Linda, either. We're still trying to figure out who she is … uh, was. And that's why I'm still getting funny looks.
I feel sort of like the old man in Monty Python and the Holy Grail. Remember the scene where a cart makes its rounds in a plague-ridden village? "Bring out your dead!" the driver calls. A villager carries an elderly man out to the cart and tries to put him aboard. "I'm not dead," the old fellow keeps insisting. (Eventually the driver conks him on the head and throws him onto the cart. I hope that isn't going to happen to me.)
What if we never identify the Linda who died? Maybe she wasn't really in our class. Maybe she's just an urban legend, like the Beatles with "Paul is dead."  Do you suppose, if you play, let's say, the Green Bay Packers' fight song backward, it will tell you that I'm gone?
As Mark Twain is reputed to have said, "The reports of my demise are greatly exaggerated." And that beats the alternative, after all. Except for the funny looks. At least people aren't crossing themselves at the sight of me. Not yet, anyway.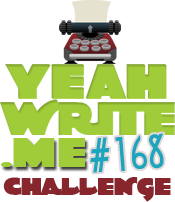 Hooking up with yeah write me #168. Click on the badge to see all the great blogs and vote for your favorites.